These istructions are from project central @ dmc-usa.com

GENERAL INSTRUCTIONS

Use all six strands of floss for wrapping (treat as one). For a striped effect, wrap two or three different colors of floss simultaneously. When wrapping Floss, secure beginning and end with small dot of glue at back of doll. Please read steps 1-9 carefully before beginning.

Materials (for one)
Craft Glue
Scissors
Ruler
One baby clothespin
Craft Picks (see individual doll instructions)
DMC Six Strand Embroidery Floss (Art. 117 in desired colors for hair and clothing)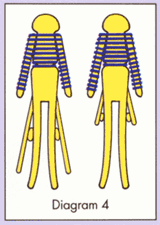 Step 1
Using pens, draw face on baby clothespin. Let dry.

Step 2
Using desired floss color, begin wrapping upper body and continue down to waist. (Diagram 1)

Step 3
Cut 7/8" off rounded ends of craft picks for arms. (Diagram 2) Step 4
Wrap floss around each craft picks arm to desired sleeve length.

Step 5
Glue arms onto clothspin body.

Step 6
Starting at back of dollís neck, wrap floss around 5 or 6 times to form shoulders. (Diagram 3)

Step 7
Beginning at waist, wrap lower body. For pants or shorts, wrap floss down leg to desired length. Then wrap remaining leg. For a skirt, wrap floss around leg to desired length. For a fuller skirt, glue pieces of craft picks (size of pieces determined by skirt length) at sides of doll. Be sure to wrap floss around several times where craft picks are glued to make a fuller, smoother skirt line at sides.

Step 8
Glue floss to head for hair in desired style.



This istructions are from http://www.dmc-usa.com/projects/archive/worry2.html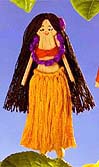 LEILANI

Bikini Top: #666
Grass Skirt: #783
Lei/Flower in Hair: #552
Hair: #310


Bikini Top: Cut five 4" pieces of red floss and use one piece to tie a knot in the middle. Glue to dollís chest. Bring ends around and tie in back. Trim ends.

Grass Skirt: Cut twenty 4" pieces and one 6" piece of gold floss. Lay 6" piece flat. Bring ends together of one 4" piece, forming a loop. Place loop end underneath 6" flat piece. Bring ends of 4" piece over 6" flat piece and through loop, forming a knot. Pull ends to tighten knot. Repeat for remaining 4" strands and trim ends to even out skirt bottom. Tie skirt onto doll, with knots on inside, trimming ends in back.

Lei: Tie 12 loose knots close together in one piece of purple floss. Glue to shoulders and tie at back of neck. Trim ends.

Hair: Cut twenty 3" pieces of black floss. Tie at center and glue to dollís head. Trim ends evenly.

Flower: Tie 3 loose knots close together using purple floss and glue in place.



This istructions are from http://www.dmc-usa.com/projects/archive/worry.html






UNCLE SAM

Jacket: #820
Pants: White
Stripes: #666
Hair: White
Clothes: Make a navy blue jacket and white pants with red stripes. Glue red stripes at center front, back and sides.
Hair: Cut 1/16" snips of white floss for hair and beard.
Tophat: Cut Ĺ" off one end of DMCís tube-shaped label. Open up remaining label and cut a brim and top for hat. Glue together and glue onto head.